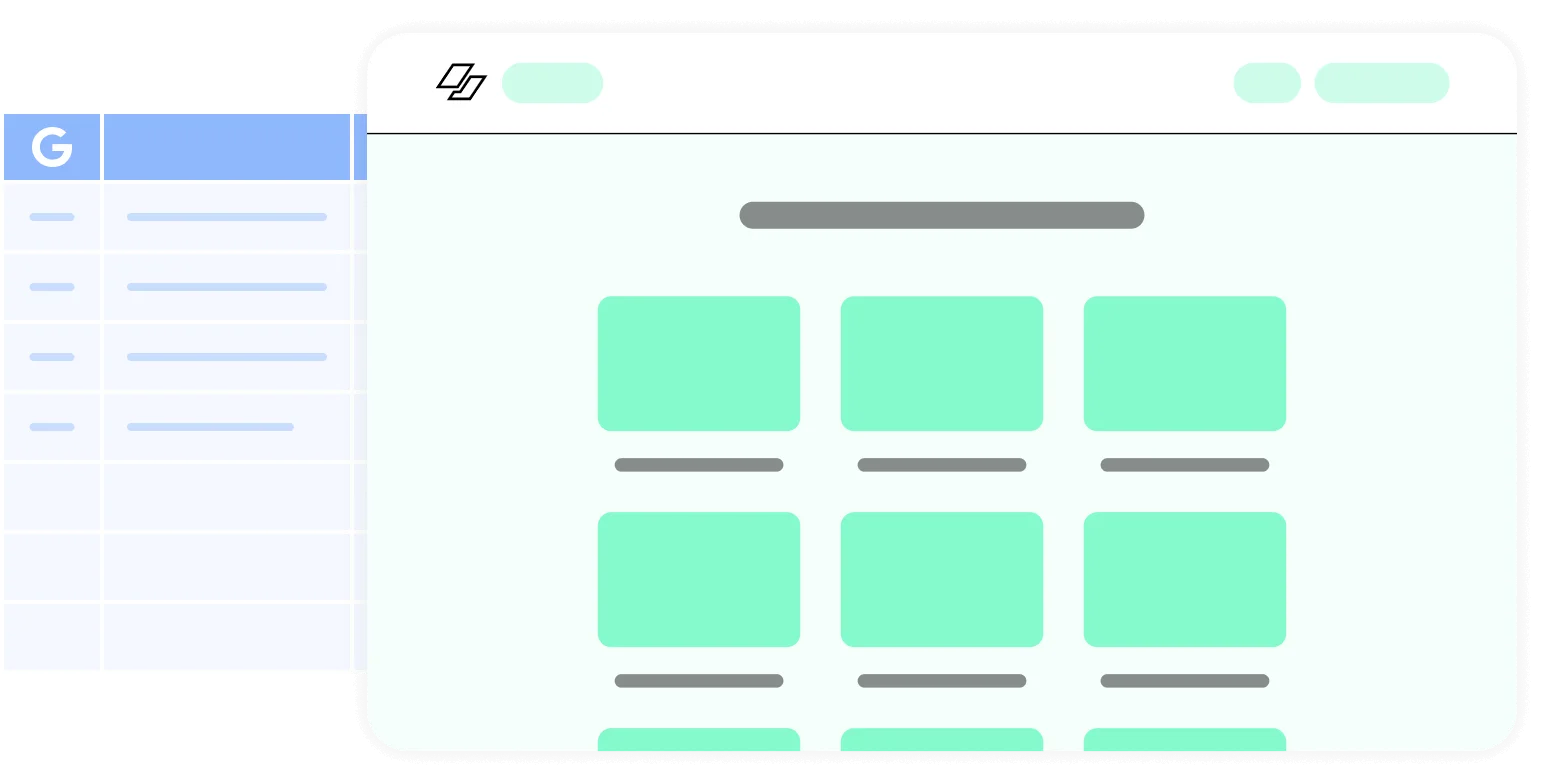 How to build websites using Google Sheets.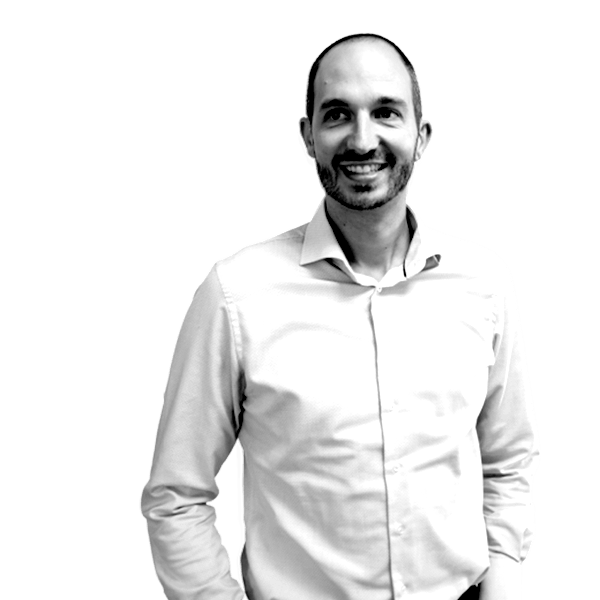 Google brought us ... spreadsheets in the cloud
Everyone knows how to use a spreadsheet. Because of their unique simplicity and flexibility, spreadsheets are widely adopted by SME's and used for various business purposes. Spreadsheet programs like MicroSoft Excel and Google Sheets are used to support and maintain a wide range of business processes from simple administration, over marketing and sales to finance and legal services.
With the launch of Google Sheets in 2006, as a free cloud spreadsheet software, Google set new standards in the spreadsheet market. The javascript software was browser based, always accessible and up to date. To leverage the power of eco-systems, it didn't take long before Google allowed others to build add-ons on top of Google Sheets.
Push webform submissions to Google Sheets
When it comes to websites, many loves the idea to use Google Sheets as a back-up solution for webform submissions. Think about contact forms, online orders, newsletter sign-ups, event registration,... Integrating forms to Google Sheets is a gentle way to structure form output and it even gives quick insights in webform performance.
Popular no-code automation tools, like Zapier - IFTTT - Workato - Automate, focussing on data synchronisation between platforms made it pretty easy to connect Google Sheets to other data sources. However the simplicity of these solutions, the best practice for web design is to integrate webforms directly.
To make this possible, SiteManager allows multi channel publishing. This means that one webform could simultaneously publish submissions to email recipients, Google Sheets, Mailchimp, Zapier,....
Use Case: Build your website on Google Sheets
Once you collect webform data in Google Sheets, the question arises whether it's possible to show this data back on your website? Why would that make sense? Well, this simple use-case will show you direct added value.
Imagine you need to build a directory site for your end-client, to promote local shopping in your neighbourhood. A pretty straight forward functional analysis outlines two main feature requests:
A webform allowing local shop owners to register for the directory.
A directory list visualising all local shop owners who registered successfully for the directory.

Setting up a webform and publishing the submissions to spreadsheet is quite simple. No coding skills required. Check this how to article for more information. Think carefully about the requested information and use the right form elements. In our case this would be: shop name, logo, adres and link to website.
 
But ... with all the information now available in a Google Spreadsheet, it would save a lot of time if we could use this spreadsheet as the main content source to set-up our directory visualisation. This is what we call a closed loop integration. The added value for your end-client is obvious:
spreadsheet automation: no need to manually update spreadsheets
auto update directory: for each form submission the online directory will be automatically updated
No need to maintain two identical data sources (CMS and spreadsheet)
3 Google Sheets website builders on the market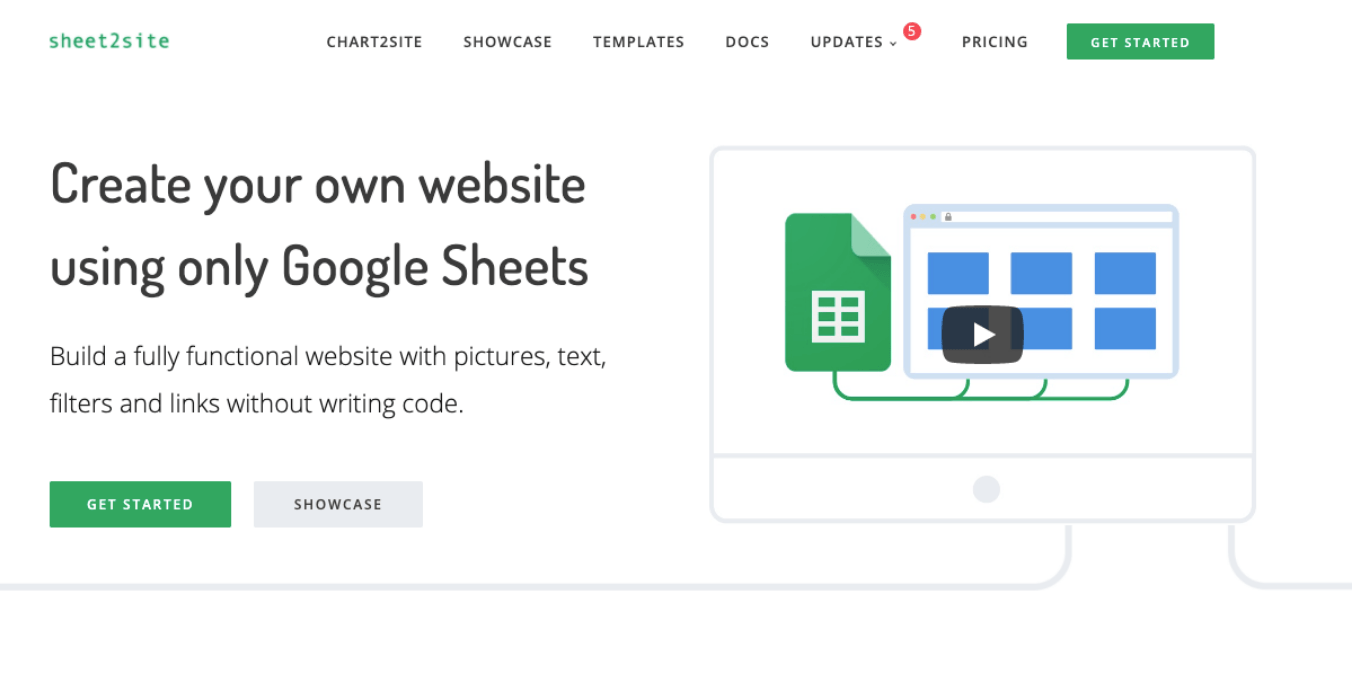 Sheet2Site
Launch date: 23/03/2019 on ProductHunt
What is Sheet2Site: Sheet2Site is a tool that will help you create a beautiful website from Google Sheets with pictures, text, filters and links, without writing code.
The Story: Sheet2Site was founded by Andrey Azimov as an easy way to generate websites, just in a few clicks, from Google Sheets. It launched in march 2018 on ProdutHunt. Andrey Azimov build the first prototype for himself because he found using SQL databases was too complicated to manage content like titles, links, images etc.
Team: Andrey Azimov
Website: https://www.sheet2site.com/ (build on sheet2site)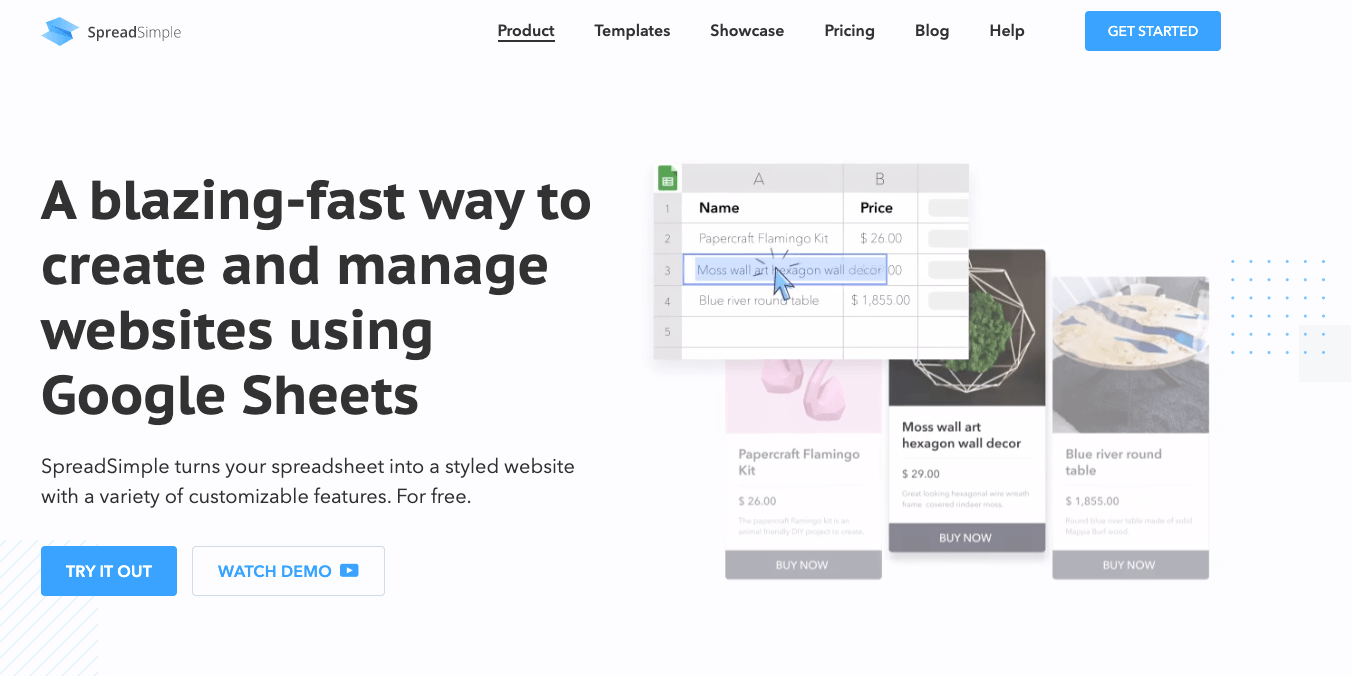 Spreadsimple
Launch date: 3/07/2020 on ProductHunt
What is Spreadsimple: A no-code web application that makes it simple and quick to create and manage a feature-rich website using the data in a Google Sheet
The Story: SpreadSimple was co-founded by Refat Ametov as a solution to help customers when it comes to content management and keeping websites up-to-date. He realised customers prepared their website content in spreadsheets, that's why he came with the idea to use Google Spreadsheets as a content management tool.
Team: not disclosed
Website: https://spreadsimple.com/ (build on VuePress)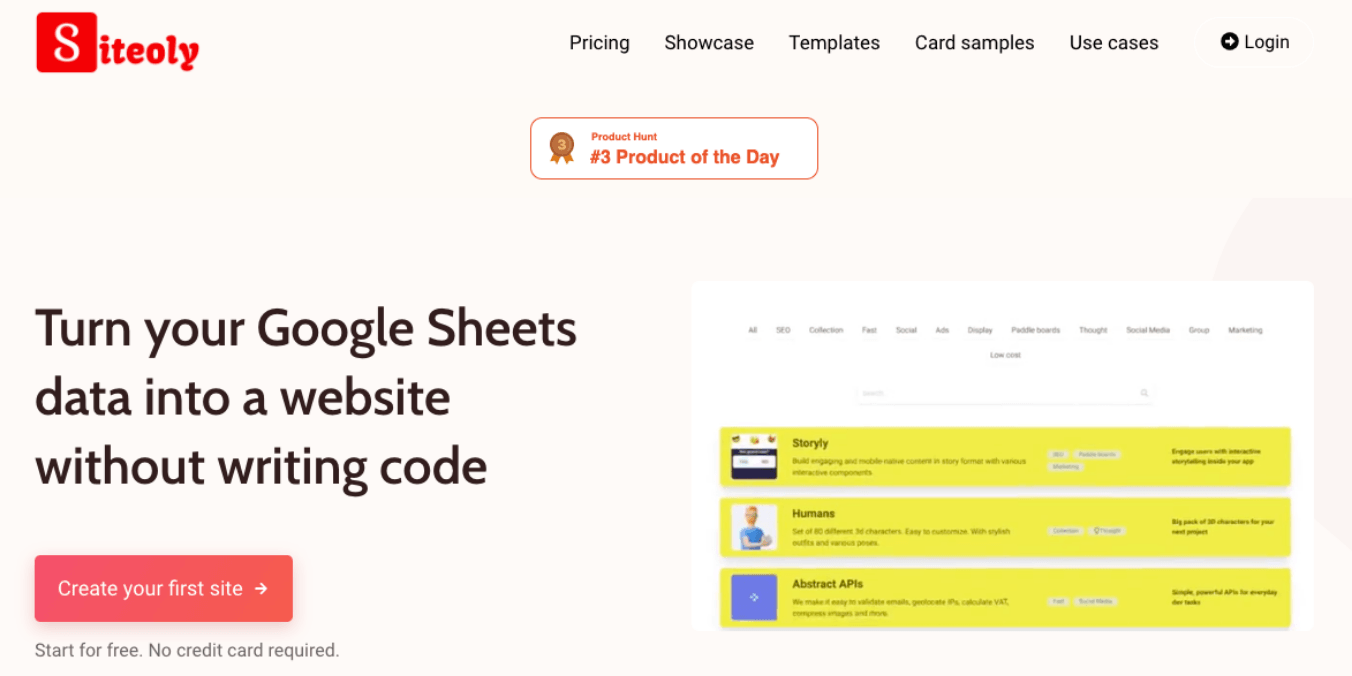 Siteoly
Launch data: 20/11/2020 on ProductHunt
What is SiteOly: A no-code website builder using Google Sheets
The Story: Siteoly was founded by Upen V and is currently in Beta. The idea is to simplify building data-rich websites without writing code.
Team: not disclosed
Website: https://siteoly.com/ (build on Dorik)
How is SiteManager Google Sheet integration different?
The future of web design platforms isn't in content management but in content aggregation. The main added value of design platforms is to create a custom brand on top of this aggregated content in the most efficient way.
In our vision websites shouldn't be limited to one single content source. Content could come from multiple sources like Airtable, Google Sheets, ATS systems, RealEstate software - CRM platforms and many more.
Compared to the other solutions on the market, our Google Sheet integration is just a feature instead of the entire product USP. When you connect SiteManager's no code design tool to Google SpreadSheets, an entire library of Google Sheets snippets becomes available. Ready to visually build cards, lists, and many more ....
Let's try this out!
Want to start building No-Code?
Wondering whether SiteManager would be a fit for your team? Contact us and we will guide you around!